Below is our list of Photography Companies. To see their full details and offers click on their name or image.
If you're a Company that wishes to appear on this page click here for more information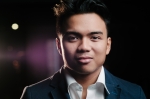 Josh Tomalin
I'm a specialist performing arts photographer - creating headshots, performance and behind the scenes for dance and theatre.
If you're a Company that wishes to appear on this page click here for more information
Headshot Photography| Headshot Photographer | Headshots | Photography Companies